Originally posted on realfoodtraveler.com, written by Irene Middleman Thomas
Looking for an escape that offers plenty of outdoor exploration with western charm and flavor? Come along to southern Wyoming, with writer Irene Middleman Thomas, as she guides us through two of her new favorite destinations, Laramie and Saratoga. Irene poses the question, "Why Wyoming? Why not!" when there are so many things to do.
Living most of my life in Colorado, I had hardly ever thought about Wyoming, and rarely heard of anyone venturing there, except to go to Yellowstone. I thought of it as a rather barren state with few people but plenty of herds of bison, elk, pronghorn and cattle in desolate prairie, along with cowboys and cowgirls and constant rodeos. In short, not really my scene.
But when we moved up to Northern Colorado three years ago, we started to hear intriguing tidbits about southern Wyoming, specifically Laramie. Before we knew what happened to our stubborn mindsets, we had decided to venture north and see for ourselves. And guess what? We now visit Laramie and its surrounding area regularly. To our surprise, it has become a favorite place of ours.
There is plenty of short-grass prairie, and abundant red rock cliffs and formations in southern Wyoming, backing up to some of the most spectacular parts of the Rocky Mountains. That includes the aptly named Snowy Range, where alpine lakes and craggy glacier-formed peaks (6,000-12,000 feet) resemble parts of the Alps. Others are akin to vistas in the Andes. Those "in the know" are aware that mountain recreation is much easier and cheaper and most of all, less crowded in the Snowy Range than it is in just about anywhere in Colorado. Snowy Range Ski Area, for example, charged just $59 for one-day lift tickets in 2021.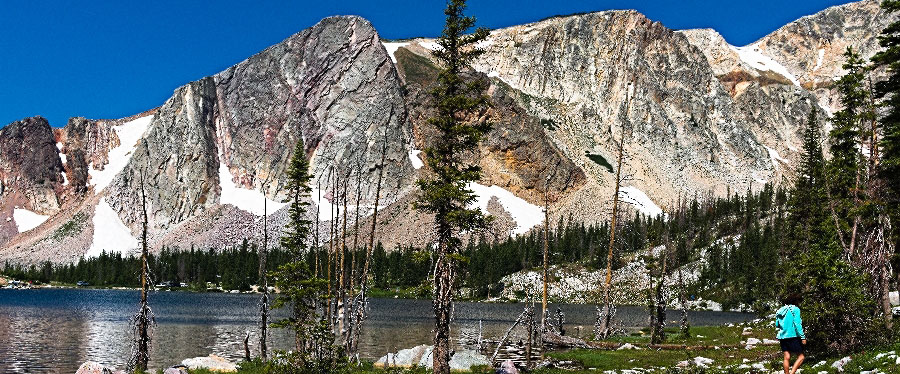 The Medicine Bow National Forest, a mix of the Laramie Range, Snowy Range and Sierra Madre Mountain Range, offers recreational opportunities all year. Outdoorsy types flock there to fish, stand up paddleboard, boat, camp, rock climb, mountain bike, hike, hunt, photograph wildlife, and in the colder months, ski, snowboard, snowmobile, and snowshoe.
There is much more to see and do in southern Wyoming than most folks realize. For a start, here are two of my suggestions. But for more, check out: www.visitlaramie.org and www.Goin2Wyo.com.
Things to do in Wyoming: Visit the City of Laramie
We were genuinely flabbergasted to encounter one of our now-favorite restaurants in Laramie, the only college town in Wyoming, with a decidedly unique ambiance (self-described as "offbeat"). Throughout Laramie, don't be surprised to spot rainbow flags, No Hate Allowed signs, PRIDE posters, and a healthy diversity in the populace.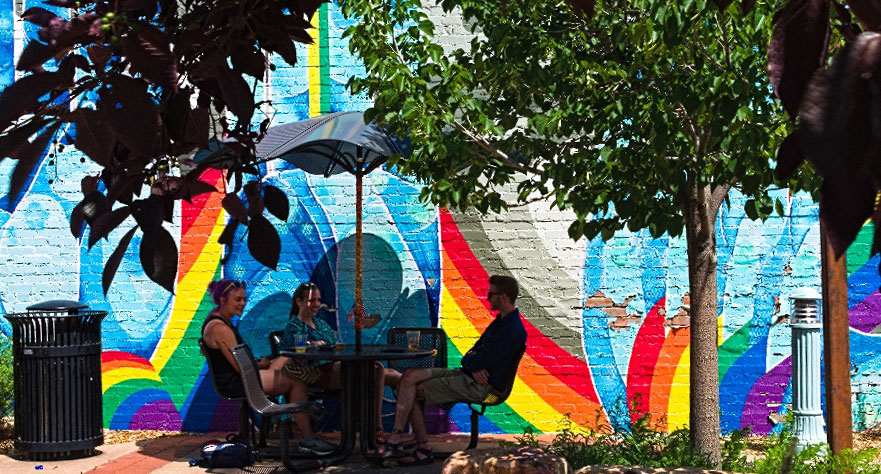 The so-called "Gem City of the Plains," Laramie is home to the only four-year university in Wyoming, which brings quite a bit of culture and vibrancy to this relatively small city of about 32,000+ inhabitants. Having been the locale for many Hollywood movies and television programs, Laramie has a romantic appeal for Western lore enthusiasts.
(Laramie is a sophisticated, yet quaint small city with a surprising amount of culture.)
There is a surprisingly large array of museums, several of which are on the university campus. For example, visitors can gaze upon one of only five full brontosaurus skeletons in the world at the University of Wyoming's Geological Museum (free of charge, closed on Sundays), along with many other prehistoric creatures. At the Laramie Plains Museum, artifacts from Laramie's frontier days are displayed in a mansion once owned by the founders of Laramie, Edward and Jane Ivinson. The top tourist attraction in Laramie is the Wyoming Territorial Prison, built in 1872, where over 1,000 infamous types such as Butch Cassidy spent some "time." Open to the public, this is a sobering, but fascinating museum.
A special time to explore Laramie might be Jubilee Days in July, with an old west-style festival including bed races, rodeos, a carnival, parade, live music, and brewfest. See the full event schedule at www.visitlaramie.org.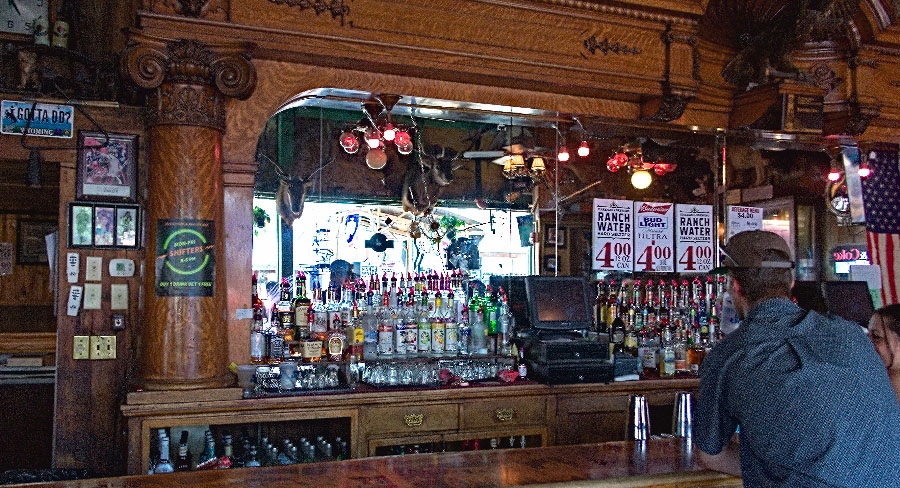 The crowd was tame, family-friendly and manageable when we attended, even during the rowdy bed races outside the classic Buckhorn Bar & Parlor, operating since 1890 with every animal head peering down from the walls that one could imagine. (Insider tip: Ask the bartender about the bullet hole in the mirror!) On our recent visit, the Buckhorn's bar stools had an eclectic mix of five Harley riders from Kentucky, a COVID-masked woman who spoke to no one, several tight T-shirted cute young girls sporting cowboy boots, and a group of beefy guys in Stetsons and Wranglers. Upstairs, the dance floor was preparing for that evening's hip hop music – hip hop??? That's Laramie – breaking those Wyoming stereotypes once again.
The downtown farmers market at the Historic Railroad Depot runs every Friday afternoon from July through September. The Laramie Mural Project, founded in 2011, is an eye-popping collection of large-scale murals on downtown walls and alleyways made by local artists. Walking tour brochures are available at the Laramie Visitor Center at 800 S. 3rd Street.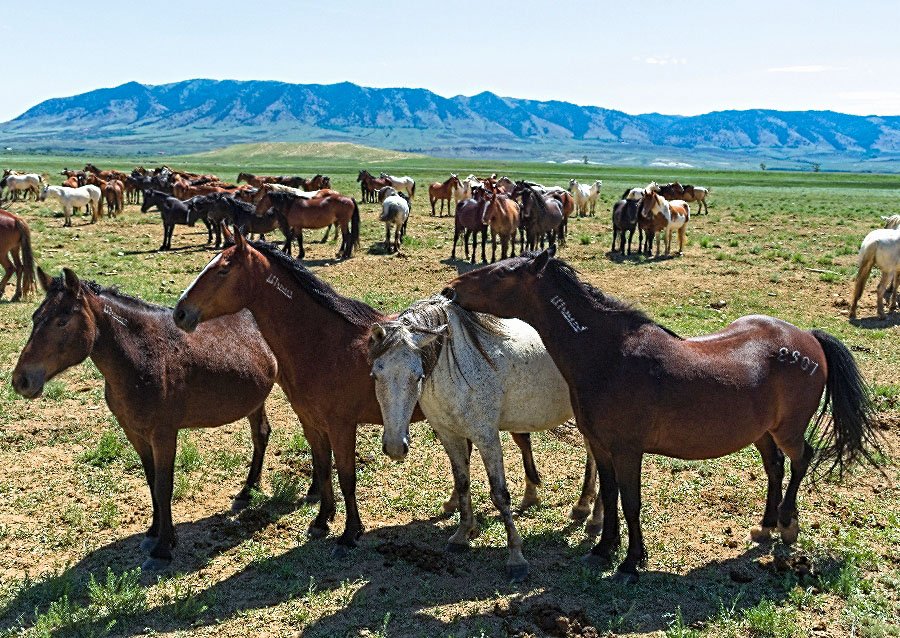 Horse lovers might visit the 4,700-acre Deerwood Ranch Wild Horse EcoSanctuary, with some 350 wild horses living alongside elk, coyotes, deer and other wildlife around the Middle Fork of the Little Laramie River, 35 miles west of town. The two-hour tour is well worth the price and Rick Wilson, the ranch owner, is a story-telling master.
Don't miss a stroll through the beautifully landscaped campus of the University of Wyoming, with a life-sized tyrannosaurus statue and lovely gardens, including one that is dedicated to the memory of students who have died while attending the university. Laramie's downtown is charming, really! Cowgirl Yarn is fascinating even for non-knitters with its incredible yarns and wools from all over the world. The Chocolate Cellar is well worth a visit not only to buy fine chocolates but to gaze at the collection of exquisite antique candy tins, some 500+! The Bent & Rusty is a must – but plan for at least an hour to see the rather overwhelming treasure trove of Western memorabilia, artisan goods, and a wild assortment of items one might not find anywhere else.
Independent coffee shops abound, such as the downtown The Grounds, Prairie Rose and Coal Creek, and Laramie, with less than 33,000 residents, is home to five, yes five, local and award-winning breweries all just steps from each other. One of the coffee shops, Coal Creek, is actually a brewery as well.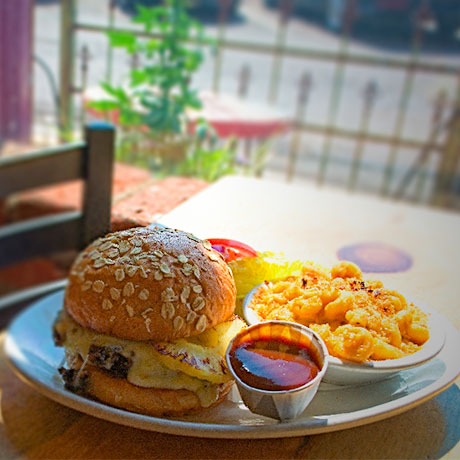 That favorite restaurant of ours? The one we drive 1 ½ hours from home to go to when we have a hankering? The one that we visited even during the pandemic's dark days to get take-out and eat in the car while it was blowing and snowing? Sweet Melissa has been a beloved Laramie Go-To for almost two decades. We are NOT vegetarians, but here, even a dedicated carnivore would be happy. A wildly creative, international menu is so hard to choose from that I struggle every time I go and never have chosen the same thing twice. However, those homemade mushroom ricotta raviolis I had last year just might be a repeat – they were frankly better than any I've had in Italy, or elsewhere. You'll see gay couples, cowboys, grizzled old men, families with small children, romantic couples, strict vegans – ANYone and EVERYone loves Sweet Melissa.
Afterwards, downtown Laramie's newish Sugar Mouse is truly adorable. This cupcake shop is like a life-size postcard, with wonderfully creative creations in a setting worthy of a British teatime. Pink and lacey and well, yes, feminine, but anyone would be tempted here.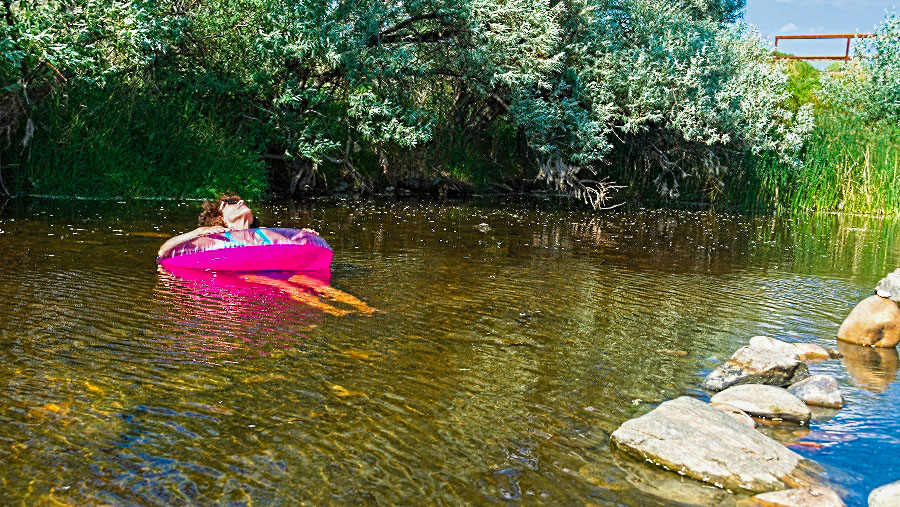 Things to do in Wyoming: Saratoga
New York has a Saratoga Springs, and Wyoming has a Saratoga, which was named after the one in New York. Saratoga means "place of miraculous water in rock," and that is the town's claim to fame. The natural mineral hot springs filled pools here are actually free-of-charge at the so-called "Hobo" Hot Springs Pools, open 24 hours, 365 days a year, with temps ranging from 101 to 110 degrees. Beware of the "Lobster Pot:" it's 120 degrees! Restrooms with changing areas, showers and lockers are on site. After a relaxing afternoon soaking on a mid-July visit, we strolled over to town to have dinner, planning to return to the pools for star-gazing while luxuriating in the warm water.
Dinner was at the historic, family-owned Wolf Hotel & Restaurant, with its big wrap-around porch and long row of rocking chairs, which has been welcoming travelers and diners since 1893. The hotel offers a variety of rooms and suites, and an authentic saloon, replete with swinging doors, but which offers not only whisky and domestic brews, but new-timey craft beers and trendy cocktails. The dining room still has a true salad and soup bar and plenty of stick-to-your-ribs meat plates like aged prime rib and the "Wyoming Whiskey Burger" along with modern items such as veggie burgers (really, in Beef Country??) and teriyaki chicken (gloriously juicy and well-seasoned.) But for me, the dessert junkie, the pièce de résistance was the Burgan's Brown Trout Crunch, a completely gooey ooey sundae concoction made with uber-rich ice cream from next door Lollypops.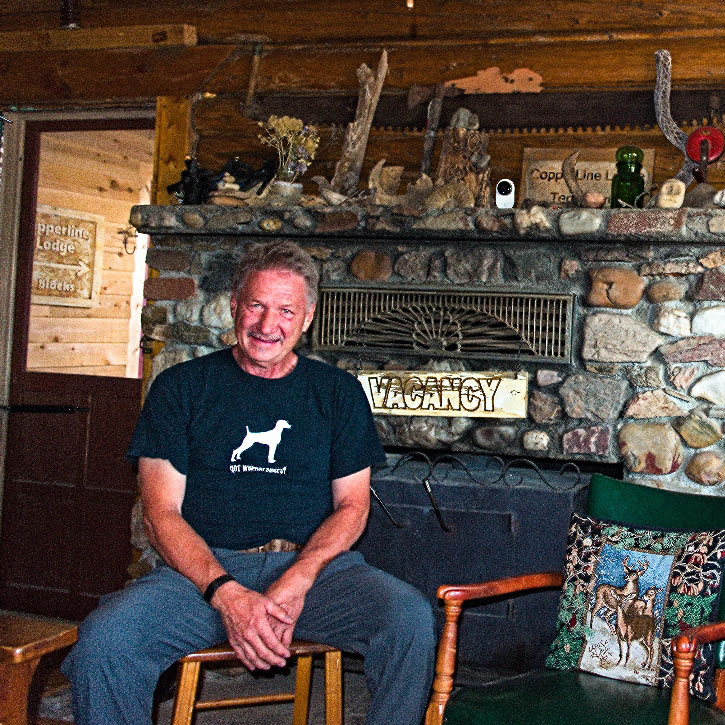 Indeed, we returned to the pool after dinner and were thrilled to see myriads of stars emerging slowly but steadily, until we felt blanketed with twinkles above. Conversing with locals and other tourists was a delight as well – in fact, it was tempting to just stay all night, but we did leave about 11 and ventured back to our cozy room at the Copperline Lodge, just a few blocks from the Hobo Hot Springs. The Copperline is owned by the extremely engaging and witty former marriage and family therapist Dan Post and his wife, who cook up a lavish breakfast buffet each morning, included with the stay. This log cabin inn, with a gleaming copper roof, was basically put together in 1954, but the Posts have made plenty of modernizations and have added new suites recently, adorned with rustic wood trim and moldings and inviting handmade quilts.
If you are not interested in hot springs, the town also has a large outdoor swimming pool right next door, with very reasonable rates, open June through early September, daily. Saratoga also is home to the fancier Saratoga Hot Springs Resort, a full-service property with its own hot springs pools, spa, brewery, restaurant and various luxe lodging options.
Saratoga has a popular municipal golf course as well. April to mid-October, weather permitting, weekday rates are just $25 for 9 holes and $39 for 18, weekend $28 for 9 holes, $42 for 18, but check out the Monday special – unlimited play for just $15, not including holidays.
— Story by Irene Middleman Thomas. Images by Mark Rush Photography.