| Trail Name | Difficulty | Symbol | Status | Grooming |
| --- | --- | --- | --- | --- |
| Blackfoot | Easiest | | CLOSED | |
| Centennial | Easiest | | OPEN LOWER | |
| Lower Drifter | Easiest | | CLOSED | |
| Pioneer | Easiest | | OPEN | |
| Roundup | Easiest | | OPEN | |
| Upper Drifter | Easiest | | OPEN | |
| Warpath | Easiest | | CLOSED | |
| The Colt | Easiest | | OPEN | |
| Autobahn | Easiest | | CLOSED | |
| Little Buckaroo | Easiest | | CLOSED | |
| Arapahoe | More Difficult | | CLOSED | |
| Calamity Jane | More Difficult | | CLOSED | |
| Cheyenne | More Difficult | | OPEN | |
| Great Escape | More Difficult | | CLOSED | |
| Gunslinger | More Difficult | | OPEN | |
| Middle Drifter | More Difficult | | CLOSED | |
| Ogallala | More Difficult | | CLOSED | |
| Rawhide | More Difficult | | CLOSED | |
| Seminole | More Difficult | | CLOSED | |
| Shoshoni | More Difficult | | CLOSED | |
| Sundance | More Difficult | | CLOSED | |
| Virginian | More Difficult | | OPEN | |
| Opal | More Difficult | | OPEN | |
| Odin | More Difficult | | OPEN | |
| Crow's Nest | More Difficult | | CLOSED | |
| Crazy Horse | Most Difficult | | CLOSED | |
| Dakota | Most Difficult | | CLOSED | |
| Geronimo | Most Difficult | | CLOSED | |
| Laramie | Most Difficult | | CLOSED | |
| Overland | Most Difficult | | CLOSED | |
| Rattler | Most Difficult | | CLOSED | |
| Rustler | Most Difficult | | CLOSED | |
| Chute | Most Difficult | | CLOSED | |
Notes about Run Status
Open = Run is open
Closed = Run is currently closed

Beginner
Whether this is your first time or you aren't comfortable on the slopes, yet, you will still be able to enjoy shorter runs and cruise runs from the top of the mountain. Beginner runs are green trail signs with a circle next to the run name.
Advanced
Once you feel comfortable on the beginner green runs and want more of a challenge you can move to our more advanced blue runs. We recommend starting with our wider blue runs like Virginian or Rawhide. More advanced runs are marked with a blue sign with a square next to the run name.

Expert
Looking for a challenge with a black run? Go, Rattler. This mogul field is sure to get your heart pumping! No matter your skill level, you're bound to find a good time in our backyard. Our Expert runs are black signs with a diamond next to the run name.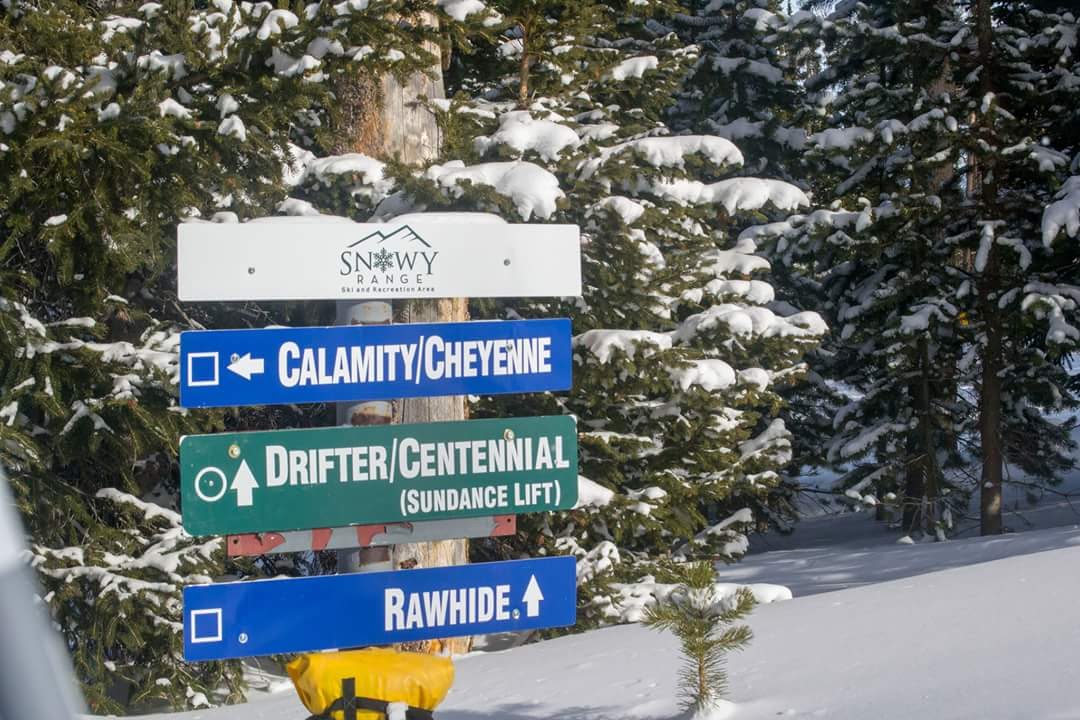 | LIFT NAME | HOURS OF OPERATION | STATUS |
| --- | --- | --- |
| Pioneer | 9:00 AM – 4:00 PM | OPEN |
| The Colt | 9:00 AM – 4:00 PM | OPEN |
| Chute | 9:00 AM – 4:00 PM | OPEN |
| Sundance | 9:00 AM – 3:30 PM | CLOSED |
| Virginian | 9:00 AM – 4:00 PM | CLOSED |
Notes about Lift Status
Open = Lift is open for the season
Closed = Lift is currently closed